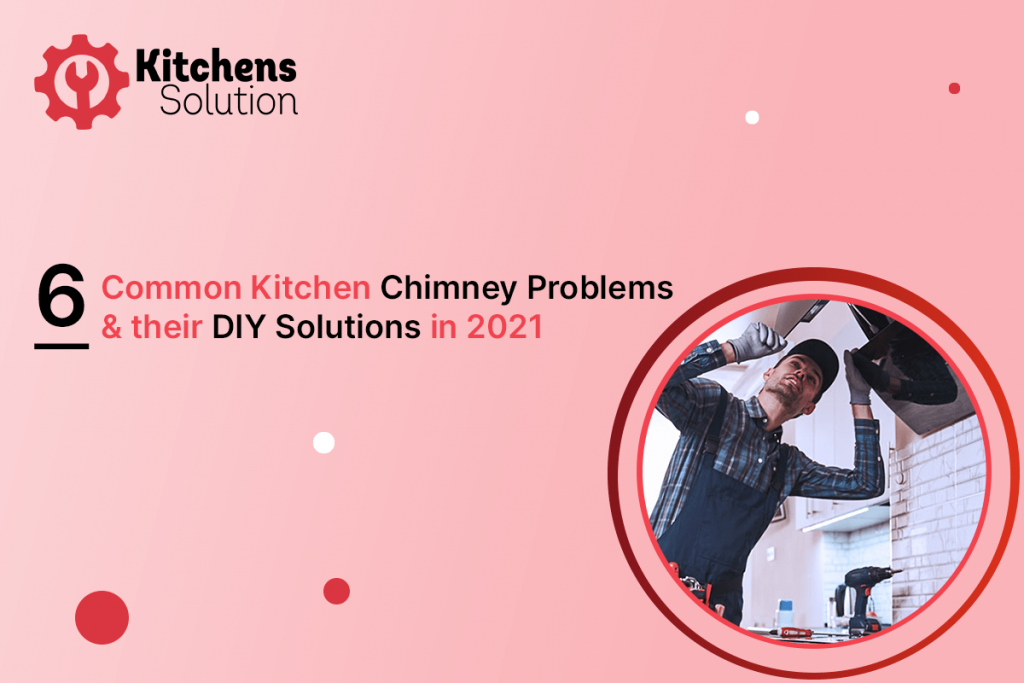 The existence of kitchen chimney also known as kitchen hood has made cooking & kitchen maintenance so much easier, especially for us Indians. We use such a rich mix of spices while cooking and it feels so good when we put tadka without any discomfort in our eyes or throat and even after that there is no persistent smell. Also, we finally don't have to keep scrubbing our kitchen walls, floors and cabinets from time to time as it does not stay oily and greasy anymore. All thanks to the evolution of Kitchen Chimneys. But when this chimney starts causing certain problems & disturbances, it disrupts our healthy cooking environment. Right? We have therefore come up with solutions to 6 basic problems that our clients usually face. Some of these solutions can be easily done at home but sometimes you do need to get a professional Kitchen Chimney Repair Service.
We have listed down a few problems for you with their causes and solutions below-
1. Improper Suction/ No Suction in Kitchen Chimney –
There are various reasons due to which the chimney's suction capacity is reduced or stopped.
Dirt Problem – Sometimes in a vented connection, when we don't regularly clean the filter, dust and grease accumulates, restricting the airflow.
Problem with the carbon filter – When we use a non-vented connection, the chimney uses carbon filters that need to be changed from time to time (at least every 6 months)
Solution (All models have certain variations, so always follow your user manual for guidance)–
Clean the Grease Duct – Look at the user manual and see where the filter is located and how to remove it. Now soak it for around 10- 20 minutes in hot boiling water with some cleaning liquid soap. After the grease softens, scrub and clean it using a sponge or brush and let it dry. Before you reinstall the filter, make sure it is completely dry.Do this once every month for a longer life of the chimney.
Replace the carbon filter –Look at your user manual and follow the instructions on how to replace the carbon filter. Also, if you fry a lot, replacing the carbon filter every 3 to 4 months is advisable.
If even after cleaning/ replacing the filters, your chimney does not suck air, check inside the chimney if there is dirt and grease there. Following your manual, remove all the removable parts of the chimney and using dish soap, clean the walls from inside. Check whether there is any dirt or particles stuck and clean if any. Now reinstall the parts but make sure the insides are completely dry before you reinstall it.
If even after these it does not work properly, there is a technical problem. And if you live in Surat, you can contact Kitchens Solution for Kitchen Chimney repair service.
2. Too Noisy Chimney –
This is the most common problem with Kitchen Chimney. With higher suction comes higher noise but sometimes it is exceptionally noisy which is a problem and this happens because of various reasons:
More bends on the duct
Internal motor
Solution-
Before installing a ducted kitchen chimney, make sure you minimize the number of bends because the more the number of bends, the noisier will your chimney be.
Since the noise comes from the motor, try to purchase a chimney that has an external motor.
Also, one of the remedies you can try is, switch on your chimney at least 5 minutes before you start cooking, so that any existing odour or fume is already sucked in.
One of the major reasons could also be that your chimney now requires cleaning & servicing. For this always call an expert and if you are in Surat, you can contact Kitchens Solution for Kitchen Chimney Cleaning/ Servicing.
3. Gesture Controls of Chimney Not Working –
This happens mostly because:
The gesture control function is deactivated.
Solution-
Switch off the chimney from the control panel but leave the main switch on. Now press the second speed button until a beep sound comes. This sound indicates that Gesture controls have been switched on.
If even after this, it does not work, contact an expert.
4. No Rotation in Chimney fan but Light Works –
This might happen because:
The fan blade is jammed
Damaged motor
Solution-
The only way to fix this problem is by calling an expert as it involves technical solutions. Again, if you live in Surat, you can always contact Kitchens Solution Kitchen Chimney repair services.
5. Chimney Vibrating Heavily –
Slight vibration in a chimney is a regular thing, but if it suddenly starts vibrating heavily, you must not take it lightly. Some of the causes for the same are-
The fan blades might be damaged.
The blower motor might be mounted loose.
An issue with the mounting bracket of the chimney.
Solution-
In all cases, you must always call an expert.
6. Fan & Light of Chimney not Working –
This usually happens because:
There might be a possibility that the light bulb has burned out.
The power cord might be loose
Solution-
If the light bulb has burned out, you can simply replace it. If you don't understand how to do that, just follow the instructions in the user manual.
If the power cord is loose, just try to plug out and plug it in again and do a little adjustment to see if they start working.
To Conclude
The above mentioned were a few problems that we usually experience with our customers. And we understand that spending money on such petty problems that can be easily solved on our own is not a luxury everyone can have. On the same hand, there are certain critical problems that cannot be taken lightly & ignored. Right? Electrical appliances are not something to be experimented with or played with.
Therefore, whenever there is a need for any technical solution, we would always advise you to go for professional help. We know very well that modern-day problems require modern-day solutions, therefore Kitchens Solution has come up with very reliable & cost-effective solutions for Kitchen Chimney repairing and cleaning services near in Surat.